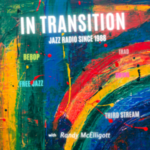 Today's episode is a mixed bag of great talent. German bassist Eberhard Weber is featured on two selections.
Trumpet player Donald Byrd who was also a dentist is featured on the Monk classic Round Midnight. His rich warm tone is on display for all to enjoy. This is one trumpet player I have been listening to for decades. I always felt he always flew under the radar so to speak.
The one and only Chet Baker is also featured and although we only get to listen to one track, hopefully there are listeners out there who might appreciate his sense of timing and gorgeous tone.
Artist | Year | Song | Time
01 Jimmy Knepper Cunningbird Languid 5.34
02 The L.A. Ensemble Urantia Dark Dreamer 5.21
03 Peter Kuhn Quartet The Kill Being Human 5.58
04 Lee Konitz and Red Mitchell I Concentrate On You Love For Sale 5.08
05 Mark Murphy Rah My Favorite Things 2.17
06 Earl Klugh Soda Fountain Shuffle Some Other Time 3.41
07 Bruce Broughton Bassus Re-Surrectus Changing 5.21
08 Hakan Brostrom Quartet Do You Remember? Quiet Ballad At Home 5.01
09 Bob Brookmeyer New Quartet – Paris Suite Airport Song 6.41
10 Elvin Jones The Impulse Years Dear John C. 3.51
11 Brooklyn Repertory Ensemble Pragmatic Optimism Body and Soul 4.44
12 George Benson It's Uptown Stormy Weather 2.19
13 Dee Dee Bridgewater Keeping Tradition What A Little Moonlight Can Do 3.12
14 Donald Byrd House Of Byrd Round Midnight 6.40
15 Don Thompson Quartet For Chris Gage 6.38
16 Chet Baker Chet You'd Be So Nice To Come Home To 4.33
17 James Moody Moody Donkey Serenade 3.50
18 Art Hodes South Side Memories It's A Happening 2.32
19 Eberhard Weber Colours-Silent Feet Eyes That Can See In The Dark 12.27
20 Eberhard Weber Colours-Silent Feet Silent Feet 12.14
21 Sonny Greenwich The Music Of Sonny Greenwich Parting 3.17