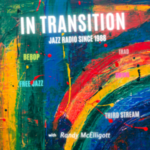 01 Jamaladeen Tacuma So Tranquillizin Be My Girl 04.41
02 Uzeb Between The Lines Number 5 04.46
03 Jamaladeen Tacuma Music World Kismet 05.26
04 Uzeb Fast Emotion Fast Emotion 06.00
05 Jamaladeen Tacuma Show Stopper Animated Creation 04.12
06 Uzeb Fast Emotion Brass Licks 02.29
07 Jamaladeen Tacuma Show Stopper From The Land Of Sand 04.18
08 Uzeb Uzeb-Didier-Lockwood Absolutely Live Tiny Twins 04.16
09 Jamaladeen Tacuma Renaissance Man There He Stood 04.09
10 Uzeb Live In Bracknell New Funk 04.46
11 Jamaladeen Tacuma Music World One More Night 04.56
12 Uzeb You Be Easy Miles Away 5.05
13 Jamaladeen Tacuma Renaissance Man Sparkle 07.15
14 Uzeb Live L'Olympia Time Square 08.50
15 Jamaladeen Tacuma Show Stopper Rhythm Box 06.40
16 Uzeb Fast Emotion Junk Funk 04.35
17 Jamaladeen Tacuma Music World The Creator Has A Master Plan 08.55
18 Uzeb Live In Bracknell Tribecca 10.44
19 Uzeb Live L'Olympia Le Baiser Sale 08.54
One of the most under rated bassists in jazz is featured on today's episode. Recordings Jamaladeen made for the Gramavision label from the 1980s are featured.
Fusion band UZEB are also in the spotlight. This always interesting band from Quebec Canada never disappoint. Comments and jazz requests are always welcome!