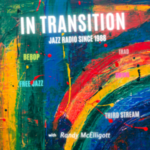 01 Dave Young and Kenny Barron Piano Bass Duets One Finger Snap 04.36
02 New York Jazz Quartet Surge 87th Street 06.37
03 New York Jazz Quartet Surge Surge 06.20
04 New York Jazz Quartet Surge What Does It Matter 04.50
05 Dave Young and Renee Rosnes Piano Bass Duets Peaceful 05.36
06 Thelonious Monk Underground Green Chimneys 08.58
07 Thelonious Monk Underground Raise Four 04.36
08 Thelonious Monk Underground Thelonious 03.14
09 Dave Young and Oliver Jones Piano Bass Duets Self Portrait In Three Colors 05.12
10 Tete Montoliu Tete-A-Tete We'll Be Together Again 09.07
11 Tete Montoliu Tete-A-Tete What's New 11.07
12 Norbert Stein We Are What We Are 07.30
13 Dave Young and Mulgrew Miller Two By Two Hot House 06.24
14 Dave Young and John Hicks Two By Two Stablemates 06.45
15 John Stein and Dave Zinno Woods and Strings Beatrice 04.53
16 Benny Sharoni Eternal Elixer French Spice 08.11
Dave Young is one of the greatest bass players to come out of Canada. Featuring him on my show in different settings is always a pleasure. We get to hear him play alongside pianist Kenny Barron, Renee Rosnes, Oliver Jones as well as others.
Spanish pianist Tete Montoliu , as well as the New York Jazz Quartet are also features.