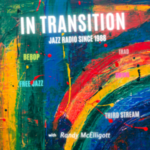 Vocalist Michael Franks has been around long enough to have influenced a slew of musicians. Not only other vocalists but musicians as well. On this episode I am featuring mostly recordings from the 1970's and 1980's. His voice is smooth and sultry but more importantly, inviting. When we listen to smooth jazz vocals these days, Michael Franks was a big part of setting the stage for a form of vocalizing that is still popular today. Another person who comes to mind is vocalist Al Jareau.
When I was going to university in Montreal back in the 1970's, there was a sax player by the name of Bob Mover. One night at one of the university party's held in the cafeteria, Bob Mover was the musical entertainment. What a discovery. He could really play his ass off. Four tracks are featured on today's episode that I hope will introduce his music to more people.
Other people featured on the show include influential pianist Bill Evans, sax player Brew Moore, as well as guitarist John Scofield among others.
September 12 2021
Artist | Album | Song | Time
01 Michael Franks Objects of Desire 1982 Tahitian Moon 4.35
02 Michael Franks Skin Dive 1985 Let Me Count The Ways 4.33
03 Michael Franks Time Together 2011 Summer In New York 5.55
04 Michael Franks Sleeping Gypsy 1977 In The Eye Of The Storm 5.53
05 Michael Franks Sleeping Gypsy 1977 Antonio's Song 5.02
06 Bob Mover In The True Tradition Something To Live For 6.25
07 Bob Mover Things Unseen Jimmy Garrison's Blues 6.42
08 Bob Mover In The True Tradition Evidence 7.56
09 Bob Mover In The True Tradition Blues For Bobby Ward 6.12
10 Renee Rosnes As We Are Now The Land Of Five Rivers 6.12
11 Jo Jones Vamp 'Till Ready 2 0n 1 Jive At Five 4.05
12 Brew Moore The Brew Moore Quartet and Quintet Five Planets In Leo 4.22
13 Frank Frost Downhome Blues Five Long Years 3.36
14 Lars Jansson Trio I Am That Give Me Five 4.26
15 Bill Evans The Final Village Vanguard Sessions Five 4.06
16 Monty Alexander Live At The Montreux Jazz Festival Work Song 13.47
17 John Scofield Works For Me Works For Me 7.05
18 John Stein and Dave Zinno Wood And Strings Birk's Works 5.41