Welcome to part 3 of my survey of jazz musicians whose name is Bill. On this episode we listen to one of the greatest musicians in jazz. A man who has influenced many musicians with his lyrical and melodic style of playing, the one and only pianist Bill Evans.
Guitarist Bill Frisell and Bill Laswell, both noted for their unique style of playing as well as their openness to possibilities are also featured.
Not to be forgotten, band leader Bill Mcfarland throws sparks with an energetic piece of music featuring The Chicago Horns.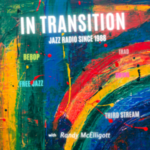 Artist Album Song Time
Bill Laswell Hear No Evil Stations Of The Cross 07:34
Bill Evans Conversations With Myself Stella By Starlight 04:54
Bill McFarland & The Chicago Horns Fire Horns Peace Is The Key 06:23
Bill Frisell Gone, Just Like A Train Egg Radio 05:07